Every week, I'll give away a print copy to one lucky winner!
This week I'm giving away a signed paperback copy of Wild Montana Sky by Debra Holland as well as paperbacks of Lexi Blake's Unconditional and J. Lynn (Jennifer L. Armentrout)'s Wait for You!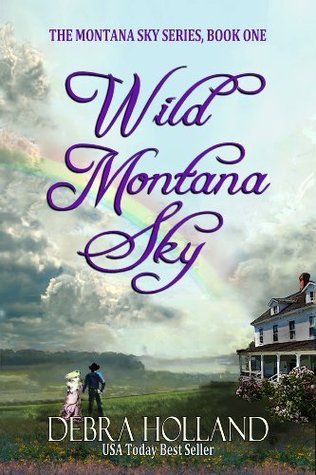 When her brother announces his marriage, Elizabeth Hamilton suddenly becomes unwanted and unwelcome in the only home she's ever known. To escape the new mistress of the house, Elizabeth accepts the invitation of her best friend to journey to Montana.
The dirt streets and wooden storefronts of Sweetwater Springs and the hardships of ranch living are worlds away from the refinements of Gilded Age Boston, yet Elizabeth is filled with new hope—and buoyed by a wealthy banker's attentions. Yet it's cowboy Nick Sanders who slowly awakens her heart and helps her recognize her strengths. And when a deadly influenza epidemic strikes, Elizabeth will fight for those she loves—and the life she's ready to claim.
A
USA Today
bestseller and winner of Romance Writers of America's Golden Heart Award, Wild Montana Sky is historical romance at its best—a warm, uplifting story of new love and second chances.
Amazon
|
Goodreads
Some things are worth waiting for.
Traveling thousands of miles from home to enter college is the only way nineteen-year-old Avery Morgansten can escape what happened at the Halloween party five years ago--an event that forever changed her life. All she needs to do is make it to her classes on time, make sure the bracelet on her left wrist stays in place, not draw any attention to herself, and maybe--please God--make a few friends, because surely that would be a nice change of pace. The one thing she didn't need and never planned on was capturing the attention of the one guy who could shatter the precarious future she's building for herself.
Some things are worth experiencing.
Cameron Hamilton is six feet and three inches of swoon-worthy hotness, complete with a pair of striking blue eyes and a remarkable ability to make her want things she believed were irrevocably stolen from her. She knows she needs to stay away from him, but Cam is freaking everywhere, with his charm, his witty banter, and that damn dimple that's just so... so lickable. Getting involved with him is dangerous, but when ignoring the simmering tension that sparks whenever they are around each other becomes impossible, he brings out a side of her she never knew existed.
Some things should never be kept quiet.
But when Avery starts receiving threatening emails and phone calls forcing her to face a past she wants silenced, she's has no other choice but to acknowledge that someone is refusing to allow her to let go of that night when everything changed. When the devastating truth comes out, will she resurface this time with one less scar? And can Cam be there to help her or will he be dragged down with her?
And some things are worth fighting for.
Amazon
|
Goodreads
A curious woman
Ashley Paxon understands responsibility. After her fiancé left her alone and pregnant, she forged a new life for herself and her daughter. Moving to Dallas, she went back to school and found a job at a club called Sanctum. As one of the BDSM club's waitresses, she watches the Doms and their submissives every night. She yearns to explore their lifestyle of discipline and power exchange, but she knows she wouldn't belong.
A wounded man
Keith Langston believes in living in the moment. Haunted by the past, he moves from one casual relationship to the next and never looks back. But the moment he lays eyes on Ashley, something primal and possessive takes over. He can't stop thinking about her and yet he knows he can't offer her what she needs. Having her seems impossible until Sanctum's owner, the mysterious Ian Taggart, makes him an offer he can't refuse.
The perfect contract
Offered the chance to train Ashley and initiate her into the D/s lifestyle, Keith is delighted to accept. Under the guidelines of a carefully crafted contract, they lose themselves in the pleasures and intimacies of being Master and submissive. But when Ashley and her daughter are threatened, Keith realizes she needs much more than a part-time Dom. To protect her, he will have to break through the barriers of their contract and finally face the demons haunting his heart.
A Masters and Mercenaries Novella
Amazon
|
Goodreads
Use the rafflecopter below to enter the giveaway!
a Rafflecopter giveaway