Every week, I'll give away a print copy to one lucky winner!
This week I'm giving away paperback copies of
Always on My Mind
by Jill Shalvis and
Wait For You
by J. Lynn (Jennifer L. Armentrout).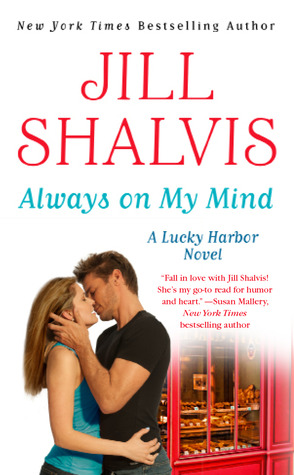 THERE'S NOTHING LIKE THE REAL THING
After dropping out of pastry school and messing up her big break on a reality cooking show, Leah Sullivan needs to accomplish something in her life. But when she returns home to Lucky Harbor, she finds herself distracted by her best friend, Jack Harper. In an effort to cheer up Jack's ailing mother, Dee, Leah tells a little fib - that she and Jack are more than just friends. Soon pretending to be hot-and-heavy with this hunky firefighter feels too real to handle . . .
No-strings attachments suit Jack just fine - perfect for keeping the risk of heartbreak away. But as Jack and Leah break every one of their "just friends" rules, he longs to turn their pretend relationship into something permanent. Do best friends know too much about each other to risk falling in love? Or will Jack and Leah discover something new about each other in a little town called Lucky Harbor?
Amazon
|
Goodreads
Some things are worth waiting for . . .
Traveling thousands of miles from home to enter college is the only way nineteen-year-old Avery Morgansten can escape what happened at that fateful Halloween party five years ago—an event that forever changed her life. What she never planned on was capturing the attention of the one guy who could shatter the precarious future she's building for herself.
Some things are worth experiencing . . .
Cameron Hamilton is six feet, three inches of swoon-worthy hotness, com-plete with a pair of striking blue eyes and a remarkable ability to make Avery want things she believed had been irrevocably stolen from her. Getting involved with him is dangerous. Yet ignoring the simmering tension that sparks between them—and brings out a side of her she never knew existed—is impossible.
Some things shouldn't be kept quiet . . .
But when Avery starts receiving threatening e-mails and phone calls, she's forced to face a past she wants to keep buried and acknowledge that someone is refusing to allow her to let go of that night when everything changed. If the devastating truth comes out, will she resurface with one less scar? And will Cam be there to help her?
And some things are worth fighting for . . .
Amazon
|
Goodreads
a Rafflecopter giveaway