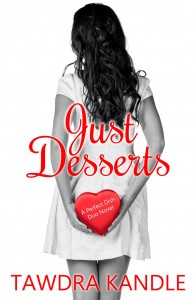 When her friend Julia needed help forming a revenge plan against her ex-boyfriend, Ava was happy to lend a hand. She never expected that in the course of making Liam pay, she'd be the one to fall hard. . .for the one person who was absolutely off-limits. Crushing on the guy who humiliated her best friend is definitely against the girl code.
Besides, Ava has goals. Her life is all about graduating with honors and landing the perfect job. And Liam Bailey—sweet-talking, complicated son of a well-known local politician—isn't part of those plans.
But Liam doesn't give up easily. And he doesn't intend to let their friends' opinions, his parents' disapproval or Ava's past get in the way of what he wants—Ava's heart.
Amazon
|
Barnes and Noble
|
Smashwords
|
iBooks
Don't miss Book 1 of A Perfect Dish Duo:
Best Served Cold
About the Author
Tawdra Kandle has been a writer since the invention of the pen. Her first published work appeared in Child's Life magazine when she was 13. After a brief, thirty-year hiatus, she published a young adult quartet, The King Series. More recently, she's released contemporary and paranormal romances in both the adult and New Adult genres. Tawdra lives in central Florida with her husband and children, of both skin and fur types. And yes, she has purple hair.
Website
|
Facebook
|
Twitter
|
Pinterest
|
Instagram
|
Newsletter